iLoud MTM Immersive Bundles are quickly spreading around the world for musicians, producers and mixing engineers looking for the perfect solution to break into immersive mixing for 7.1.4 and beyond. Optimized for Dolby Atmos® mixing with a switchable 80 Hz cutoff filter, the award-winning iLoud MTM is now included in the Dolby Audio Room Design Tool (DARDT).
Based out of Hong Kong, GRAMMY-nominated Mix Engineer Matt Sim has chosen iLoud MTM studio monitors for his Atmos rig. Matt Sim has worked with countless hit artists including The Chainsmokers, Jackson Wang, Aya Nakamura, GEM, ILLENIUM, Big Sean, Idina Menzel, and Theo Croker.
He started his career as a staff mixer at the legendary Germano Studios/The Hit Factory NYC and spent a decade honing his skills in New York City. He is a highly in-demand mixer and is currently the leading Dolby Atmos music mixer in Asia, signed to Warner Music Asia in 2021 as well as being an approved Atmos mixer for Universal Music & Sony Music globally.
The reason why I fell in love with iLoud MTM was its outstanding immersive/stereo imaging. It reflects object placement and panning position with surgical precision, which makes it an ideal companion for Dolby Atmos music mixing.

The overall listening experience for Dolby Atmos was unreal, it resembles my listening experience at some top professional studios with a luxurious Dolby Atmos system.

The sound quality was not compromised given its compact size for critical listening. It's truly a godsend for studios who want to install a Dolby Atmos rig, but without the space to fit larger studio monitors.

After installing my Dolby Atmos Rig with iLoud MTMs, the days of second-guessing are long gone!
To check out more of Matt's work, visit his website: mixbymattsim.com
---
Why is iLoud MTM ideal for immersive mixing?
Readily adjusts to any position
Using the included MEMS measurement microphone, iLoud MTM's acclaimed built-in ARC self-calibration system adjusts in seconds, correcting each one's output to ensure the most precise and balanced sound from every position, including ceiling-mounting. The result is a true phase-coherent response across the useful frequency spectrum for unbelievably natural sound.
Point-source acoustical performance
iLoud MTM is ideal for multichannel installations being linear phase and having a point-source acoustic performance to be accurate at any distance. This minimizes the inaccuracies that conventional speakers can introduce in the imaging, which is critical for multichannel and immersive setups.
Reduced acoustic interaction
iLoud MTM's midwoofer-tweeter-midwoofer design boasts dramatically more controlled dispersion than typical designs. This minimizes the speakers' interaction with room acoustics (and each other), making them ideal for rooms not custom-tuned for surround audio.
Lighter, smaller and easy to mount
Just as importantly, iLoud MTM monitors make setting up a multichannel rig easy. At 30 to 50% smaller and lighter than comparable studio monitors, users will find setup a breeze in any size room. In addition, the iLoud MTM's threaded bottom allows them to be mounted on a standard microphone stand or boom stand to best suit the listening environment or when space doesn't permit ceiling mounting.
Save on spatial sound with our special immersive bundle. Learn more about iLoud MTM.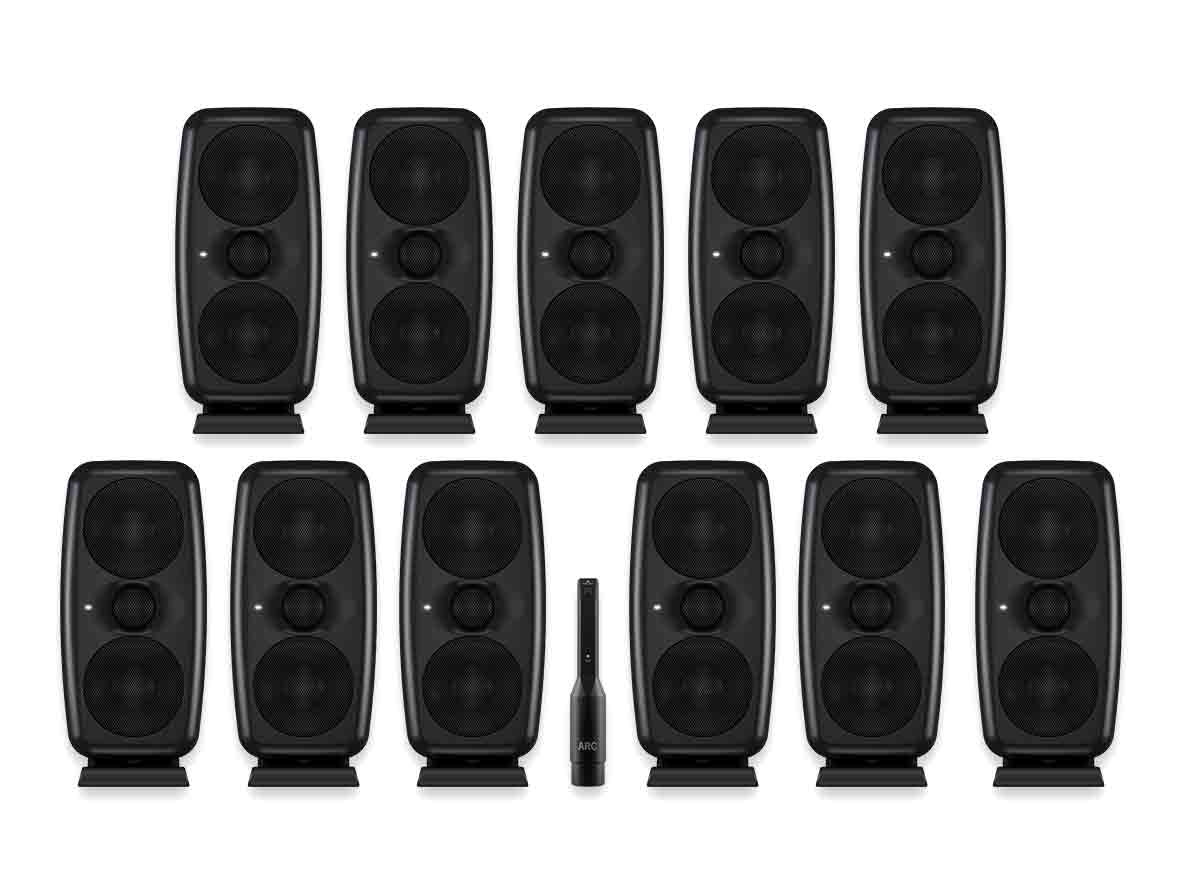 iLoud MTM Immersive Bundle 11
$/€4399.99 $/€3999.99